Thinking of a way to educate consumers and subway users on the industry and a few good points came up (even from uncle pawn, shocker).
Did you know..
That taking out a loan with a pawnshop (nyc specifically) is less expensive than the incurred costs of late charges on a credit card, cable, phone bill, etc?
Also- how often or when have you seen a pawnbroker go out of business?
4 Comments
The Goldgirl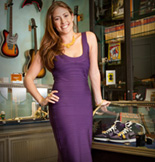 Lauren Kaminsky- aka The Gold Girl is a young entrepreneur in Manhattan. Working in her father's pawnshop is anything but ordinary and each day leads to something new. Passionate about the gold items that come her way, Lauren shares them and her daily excursions with us on this blog.