Last night at a meeting with a few other industry leaders, ideas were bounced around on our thoughts on pawn shops and the negative stigmas that they still have.  Today, with a handful of banks on the brink of default and trust in the current main-stream financial service industry at an all-time low, loans are nearly impossible for an average consumer to qualify for and pawn shops in sense offer a logical alternative for those in need of money now.
In light of this discussion one specific concept really intrigued me- pawn shops reflect a sense of optimism for the person who is using its service.  Think about it- when making a collateral loan, a customer is saying "today I need this to do what I have to do, however, in a few weeks, maybe months I will have that amount of money plus more to get my valuables back."
It clearly doesn't help to dwell on what you do not have at the moment, and those taking advantage of pawn shops are clearly thinking about where they want to be in the future, even if that means taking a monetary loan out on your valuables to reach a goal or just to simply to get by.
1 Comment
The Goldgirl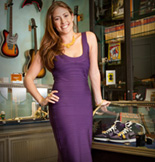 Lauren Kaminsky- aka The Gold Girl is a young entrepreneur in Manhattan. Working in her father's pawnshop is anything but ordinary and each day leads to something new. Passionate about the gold items that come her way, Lauren shares them and her daily excursions with us on this blog.