Started my morning with the typical 14th street appearance, however as I am running out the door I see a large group of women taking a group picture and lining up outside to come in.  Definitely an unusual sight.
Albert, the manager, looks up and suddenly remembers that he did receive a strange call yesterday about a group coming to the store that was interested in learning about the operations behind a pawn shop that they are shareholders in- EZ Corp.  They had organized a field trip from Upstate and were eager to learn..
Sadly, I had to break the news to them that we were not EZ Corp the publicly traded company, but either way they seemed happy with my how-to pawning demonstration, and showcase of jewelry.
6 Comments
The Goldgirl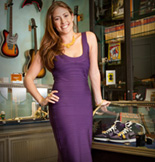 Lauren Kaminsky- aka The Gold Girl is a young entrepreneur in Manhattan. Working in her father's pawnshop is anything but ordinary and each day leads to something new. Passionate about the gold items that come her way, Lauren shares them and her daily excursions with us on this blog.