Hello everyone, I just happened to stop by Lauren's computer and decided to make a guest appearance. My name is Sheem, and these are my few words.
unfortunately my blog is more of a grieve rather than a few happy words. Us here at EZPawn has all come to realize that Lauren is quite fond of the song 'Forget You' by Cee-Lo green. She gives a light bounce as she hum-sings the words as everyone who is within earshot becomes enchanted by this live performance. At first it was cute, but like all good things, an 'enough already' eventually takes it's course. However, this whole thing has now taken on a life of it's own and now it has been deemed 'Lauren's Song' as she is soooo associated with. I watch in 'uggghhh' as my coworkers begin pointing at one another, energized, screaming out ' THAT'S LAUREN'S SONG, TURN IT UP!' as Soul Train lines, Lambada's, and wine with cheese and crackers is served throughout the duration of this song. And what's odd to me, she's not even there! I beg you, any of you, out there, please convince her to retire this song. a song I used to like, and now am truly tired of. Respectfully, EyesAndEarsOnFire!
4 Comments
The Goldgirl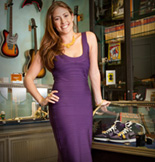 Lauren Kaminsky- aka The Gold Girl is a young entrepreneur in Manhattan. Working in her father's pawnshop is anything but ordinary and each day leads to something new. Passionate about the gold items that come her way, Lauren shares them and her daily excursions with us on this blog.