"I never worry about diets. The only carrots that interest me are the number of carats in a diamond."
-Mae West
I had received an email from a concierge I met the other night admiring my use of the term "pre-loved," which is what I say when showing select jewelry from our stores.  But after I thought about the stigmas some people have towards secondhand items, something occurred to me- when it comes to diamonds, how can you be so sure that they are brand new, even when buying from a retailer or dealer?!  Unlike other luxury items, these do not come with the equivalent of a "car-fax" and should be not judged based on their history.  In truth, a diamond should never appear worn or old-looking (especially after a cleaning).  Chips (unless caused by the user), inclusions, and other imperfections are what would diminish the value from the very beginning of a diamonds retail life.
My frustration for the day- it doesn't matter where you buy a stone, be it a pawn shop or high-end retailer, what matters are the actual specs about it.
3 Comments
The Goldgirl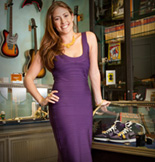 Lauren Kaminsky- aka The Gold Girl is a young entrepreneur in Manhattan. Working in her father's pawnshop is anything but ordinary and each day leads to something new. Passionate about the gold items that come her way, Lauren shares them and her daily excursions with us on this blog.