Despite the "hock-shop" references, today's meeting went rather well..
New EZ-Pawn satellite store coming soon.  Can't wait to start picking out the jewelry and displays!
6 Comments
The Goldgirl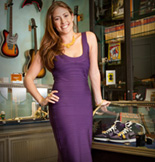 Lauren Kaminsky- aka The Gold Girl is a young entrepreneur in Manhattan. Working in her father's pawnshop is anything but ordinary and each day leads to something new. Passionate about the gold items that come her way, Lauren shares them and her daily excursions with us on this blog.