Dear Dad,
The good news is that I am getting really good at catching fakes, especially when it comes to Rolexes.  The bad news is.. we paid as if it were a real one.
Take a look inside my latest project:
While the dial and band were extremely close to looking like the real thing (Swiss Grade 1), once I opened up the back it was a dead giveaway.
5 Comments
The Goldgirl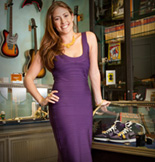 Lauren Kaminsky- aka The Gold Girl is a young entrepreneur in Manhattan. Working in her father's pawnshop is anything but ordinary and each day leads to something new. Passionate about the gold items that come her way, Lauren shares them and her daily excursions with us on this blog.