Most of my friends would not be surprised when they find out the name of my blog has to do with food (rack of lamb with mint jelly truly is the way to my heart).
Exhibit A:  My morning breakfast routine with Store 8 (14th Street) also known as the highlight of their day!
7 Comments
The Goldgirl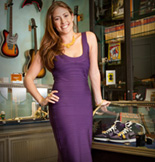 Lauren Kaminsky- aka The Gold Girl is a young entrepreneur in Manhattan. Working in her father's pawnshop is anything but ordinary and each day leads to something new. Passionate about the gold items that come her way, Lauren shares them and her daily excursions with us on this blog.