I never imagined actually starting a blog, but after telling a handful of people, from friends to strangers that I am a pawnbroker, enjoying their reactions and then making it clear that the correct term is actually a Collateral Loan Broker,  I figured giving the blog-world a chance could be a good idea.  I can't even begin to tell you how many times I've actually had to slowly either explain what pawnbroking is or enunciate clearly enough to not be miscommunicated as "porn-broking."  Here at EZ Pawn Corp no day is the same, and everyday leads to something different.  One day I could be working on our next big marketing campaign, while the next I am playing "buyer" and deciding what we should stock our retail stores with (my favorite part!) and what we should melt.
My love for vintage jewelry, the ability to grow and transform projects within a company, and my sudden change in heart towards the business I watched my father build is how I ended up here.  Hopefully, my readers will find what I do interesting, as I will be sharing with you everything from something I learned that day, an item of jewelry I fell in love with, or even something wacky that happened at one of the stores (trust me- I have stories! So get excited!).
3 Comments
The Goldgirl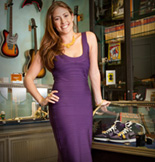 Lauren Kaminsky- aka The Gold Girl is a young entrepreneur in Manhattan. Working in her father's pawnshop is anything but ordinary and each day leads to something new. Passionate about the gold items that come her way, Lauren shares them and her daily excursions with us on this blog.